Trim and Molding Styles for Your New Home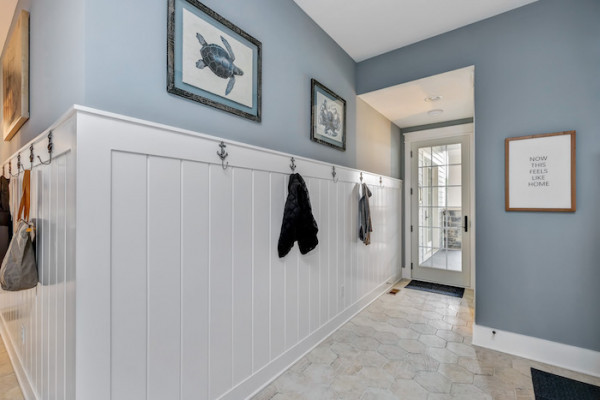 The trim and molding found in any home can define or elevate its style. Often in new homes, molding comes part of a builder's standard package and can't be changed. At Infinity Custom Homes, however, we're proud to offer a wide array of molding styles that suit every taste from contemporary to ornate. If you can dream it, we can build it. Here are a few ways you can accent your home with decorative trim or molding:
Baseboard
Simple in style and utilitarian in function, a baseboard is a narrow wooden board that runs along the base of a wall in order to cover the area where the wall meets the floor. Every home, at a minimum, has baseboards; otherwise, the rooms appear unfinished.
Crown Molding
Similar to a baseboard but appearing at the top of the wall where it meets the ceiling, crown molding is more decorative in nature and makes a room look complete. This molding can be straightforward in design or crafted with intricate details.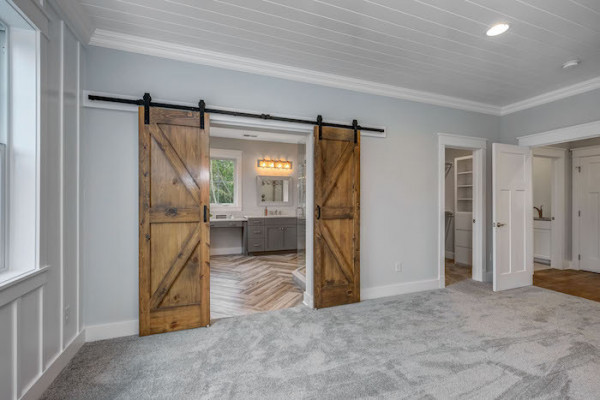 Beadboard
Beadboard is decorative wood paneling installed along the bottom portion of a wall and is characterized by a series of long, vertical grooves. It was originally used to protect walls from chairs and other furniture knocking against it, and often gives the room a quaint, cottage-like feel.
Beamed Ceiling
Exposed beams in hallways and rooms are popular right now, even if those beams aren't actually load-bearing. Beams can be added to a ceiling to create a more industrial or rustic look, or just for visual interest. You can also choose to expose the real load-bearing beams in your ceiling and stain or paint them to match the aesthetic of your home.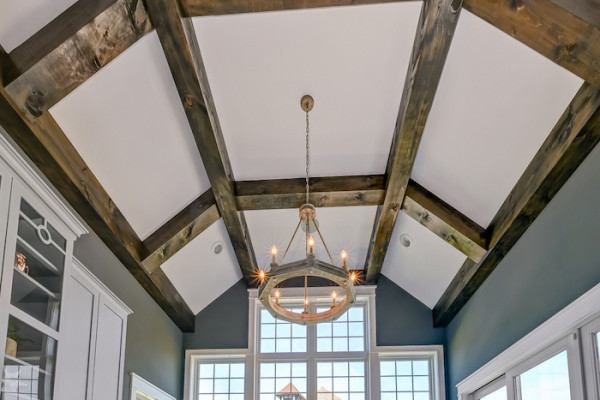 Chair Rail
Designed to protect the walls from scuff marks and dents caused by the backs of chairs, a chair rail is a long piece of wood installed around the perimeter of the room right at the height of the top of a chair. Beadboard is often installed right below it to give the wall visual interest.
Coffered Ceiling
Much more than a design detail, a coffered ceiling adds elegance and drama to any home. This design is mainly found on high ceilings and features coffers, or indentations, created by installing beams in a grid pattern of rectangles, squares, octagons, or other shapes. In residential homes, coffers are usually of a larger scale compared to the smaller and more ornate ones sometimes found in courthouses, historic churches, or other large public buildings.
Dentil Crown
Dentil crown is a decorative component of crown molding that incorporates small, rectangular-shaped blocks in a repeating pattern along the length of the wood. Borrowing from classic Greek and Roman architecture, this design detail adds elegance and formality to any room.
Medallions
Originally cast in plaster or handmade from wood or papier-mâché, ornately designed ceiling medallions were, and still are, used to dress up a ceiling where the chandelier or light fixture hangs. Today's medallions come in a variety of designs, and are typically made from coated polyurethane foam and mass-produced, making them easy to find and install in any home.
Wainscoting
Wainscoting is like the elegant cousin of beadboard. It's made up of decorative wooden panels that cover the bottom half or three-quarters of a wall. With its wide pattern, it adds grace and formatity to dining areas, living rooms, kitchens, hallways, and entries.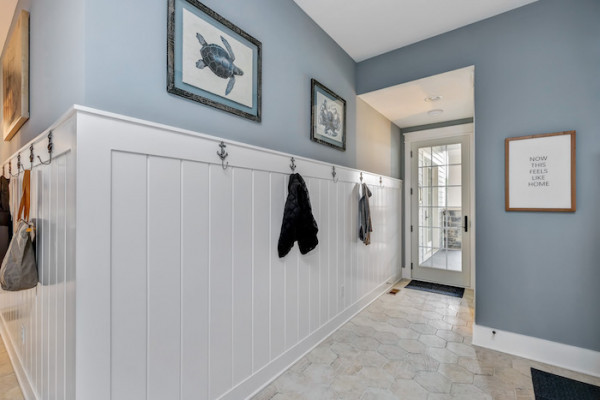 Whichever your preference, the team at Infinity Custom Homes will work with you to design the trim or molding you've always dreamed of in a new home.  To learn about all of the available design options, or to see them in person, please call Taylor at 888-424-9424 or schedule a tour of our model homes.